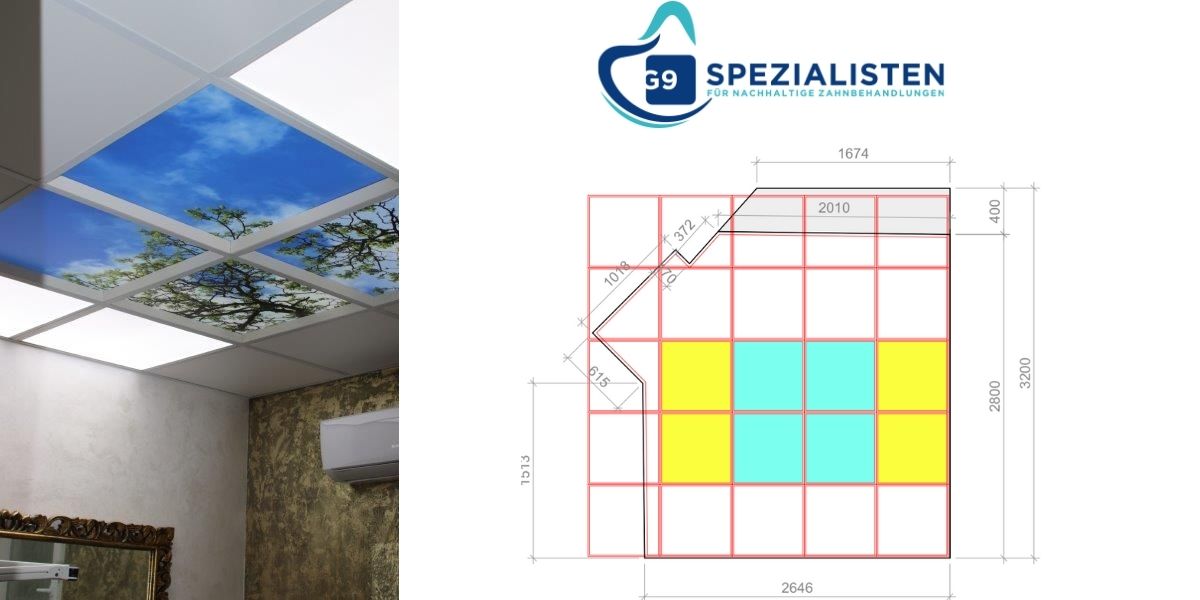 Dental practice lighting case study
Client: Roos Dental, a dental clinic in Neuhausen, Germany.
Project: Redesign practice room to improve work conditions with open ceiling photos and Denled Full Spectrum daylight LED PANELS. 
Old situation: Insufficient lighting in a treatment room of a Dental Practice
Dentist Dr Rainer Roos, from the Stuttgart area, contacted us with a request to review the lighting of one room he wanted to redesign. The small dental treatment room in poorly and insufficiently lit and needed a redesign.
We recommend a light level of 2000 lux at the headrest, which is roughly one tenth of the output of a dentist's lamp. This reduces any strain on the eyes caused by moving between different light intensities. This can best be compared to driving out of a tunnel into a sun lit street. 
Solution: 
Improve dental practice lighting with DentLED full spectrum daylight LED panels
After we made an analysis and took measurements of the treatment room in question, we suggested installing four full spectrum daylight LED panels (625x625cm Germand size) into the dentist's ceiling as well as a skylight photo system consisting of four Foto LED panels (625x625cm). Our DentLED full spectrum daylight panels illuminate the room, walls and furniture evenly and pleasantly. The skylight opens up the ceiling and livens up the entire room. They also put a smile on every patient's face laying down for their dental treatment. Local carpenter, Joachim Wiegman, fitted and executed our lighting plan for the dental practice.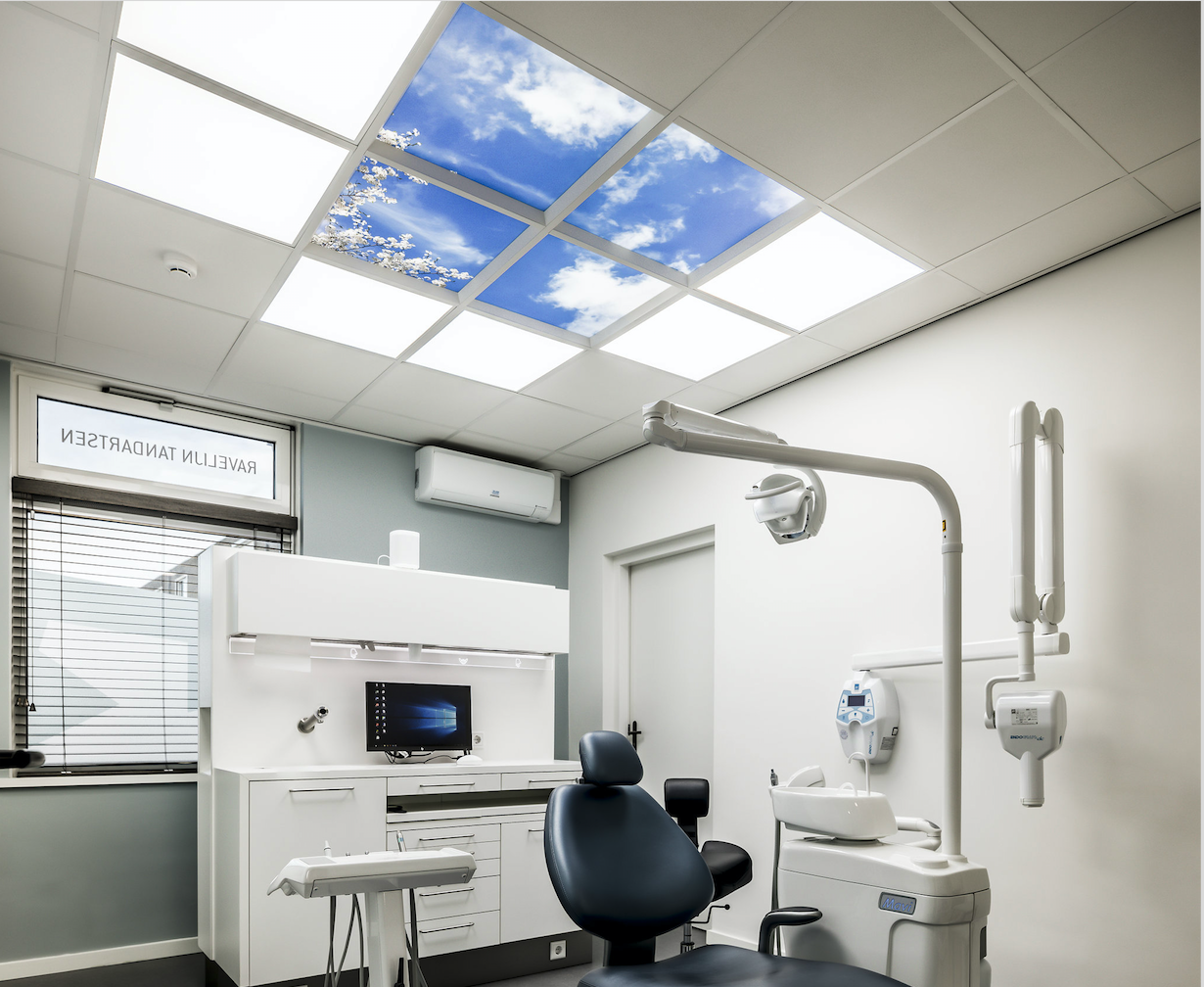 Room with 6 x Dentled DL60 and 4 x Photo panel Open Ceiling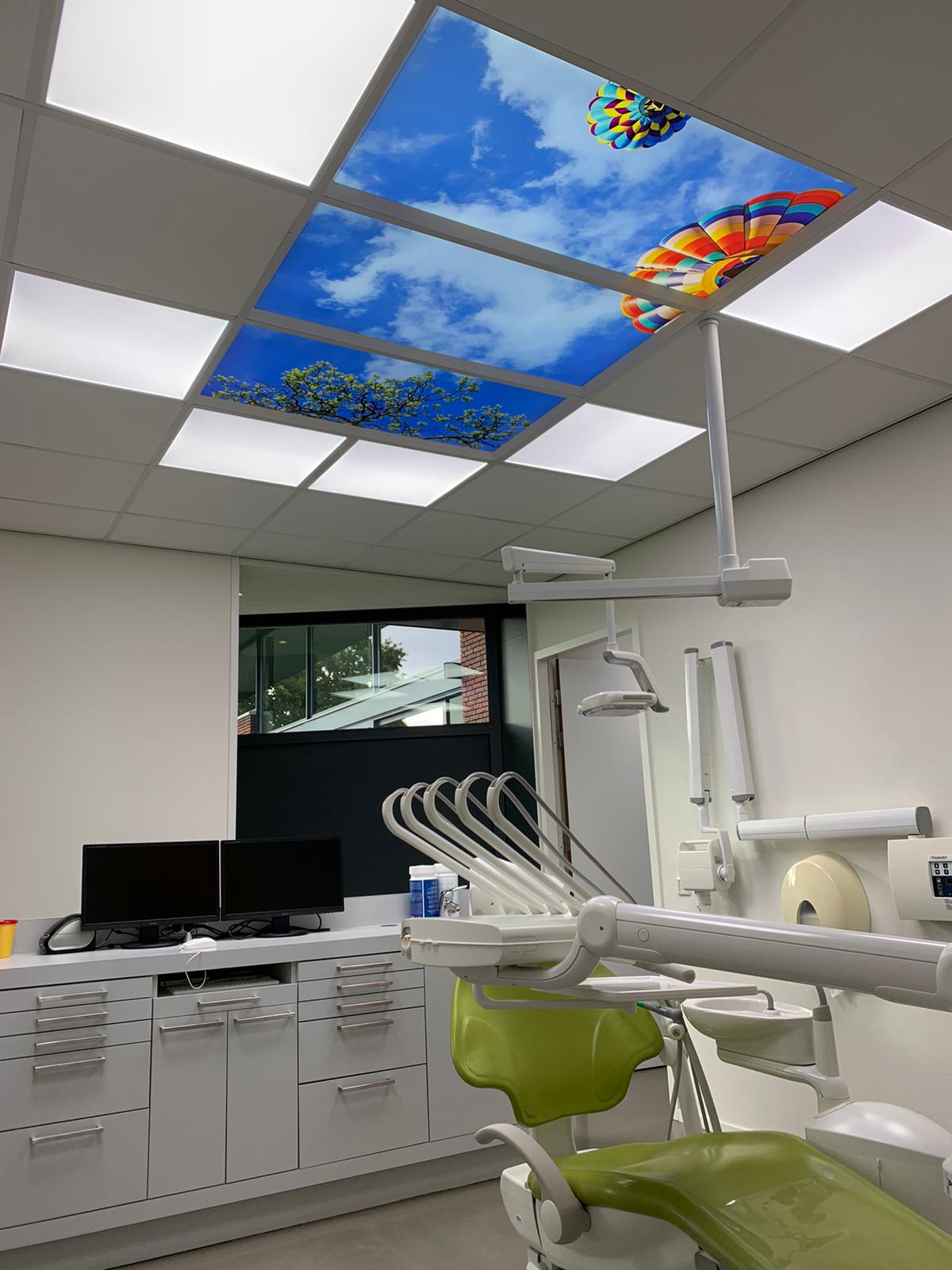 Room with 6 x Dentled DL60 and Photo panels wide version
Results
The initial objective was to improve lighting and redesign the room. Because DentLED Full Spectrum LED panels are developed especially for Dental Practices, the results went beyond 'brighter light'. Although the light is bright, it isn't harsh to the eyes but pleasant as work light. Due to the unique spectrum, it is very close to daylight, so it doesn't have a curing effect on dental glues or composites and will improve colour recognition.
Dental practice lighting case study Client: Roos Dental, a dental clinic in Neuhausen, Germany. Project: Redesign practice room to improve work conditions with open ceiling photos and Denled Full Spectrum daylight LED PANELS.  Old situation: Insufficient lighting in a treatment room of a Dental Practice Dentist Dr Rainer Roos, from the Stuttgart area, contacted us …