High Resolution Photography
Dental Lighthouse works with top photographers from all over the world. "High Resolution Large Format Photography" guarantees razor-sharp designs. Not all suppliers offer these razor-sharp images!
Designs starting from 4 panels
Choose below at PDF Design Overview to find the format that fits your space and you will see the different design options.
Do you want a special design made by one of our partners or a personalised design?
Everything is possible!
Is your desired format not listed? Please contact us for design possibilities in your preferred format.
Nr.1 Seller
Since 2014 Dental Lighthouse is the biggest supplier of photo ceilings and photo skylights in dentist practices in the Netherlands. And only the highest quality!
Why you should choose Dental Lighthouse photo skylight panels
The advantages include:
clinical rooms are transformed into natural environments
will cause a positive distraction to patients during painful or stressful treatments

contributes to a pleasant working environment for dentists and their assistants

makes waiting in waiting rooms and receptions more enjoyable

will make your dental practice stand out and emphasise care

stifling rooms are given an open and spacious character

gives the impression of daylight in your treatment room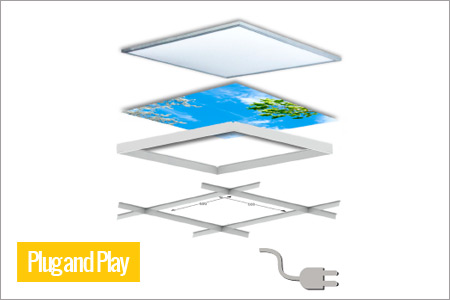 Compact LED 'Plug and Play' system
The 'Plug and Play' LED model by Dental Lighthouse is very easy to install in a ceiling. You can choose between a version with or without a dimmer.
Dental Lighthouse photo panels are anti-glare
One of the most important properties of ceiling photo LED panel is that it won't glare. The unique way in which the photo panels are printed makes them light up perfectly without any glares. An absolute must-have in dental treatment rooms where direct/indirect workplace lighting is desired.